On August 18th, Dalingshan Town held the unveiling ceremony and talent exchange activities of "Guangdong Doctor Workstation" in Guangdong Huicheng Vacuum Technology Co., Ltd. (hereinafter referred to as "HCVAC"). Cai Junfeng, member of the town party committee, the relevant person in charge of the town people's social branch and the staff of HCVAC attended the activities.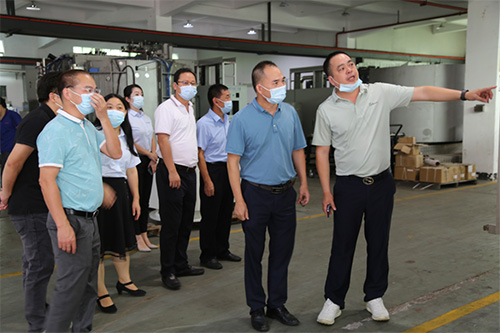 Cai Junfeng and his party first visited the manufacturing workshop and sample display area of Guangdong Huicheng Vacuum technology Co.ltd, and learned about our company's production environment, product application fields and production and operation.
Later, at the symposium, Luo Zhiming, chairman of Huicheng Vacuum technology Co.ltd , introduced the company's development, the establishment of doctoral workstation and personnel training. According to the introduction, since its establishment, the company has hired senior experts, senior engineers and doctors in the domestic vacuum industry to form a technical team. At present, there are 3 doctors, 12 graduate students and 61 scientific research personnel, and they have been awarded the "National High-tech Enterprise" and "National Specialized and New' Little Giant' Enterprise". The establishment of doctoral workstation is the recognition of the company's talent training and scientific research ability, and it will also be a new starting point for the company's scientific research technology and innovation development. The company will make full use of the radiation driving effect of workstation platform, further improve the talent mechanism, and strive to build a bigger and better innovative talent training platform.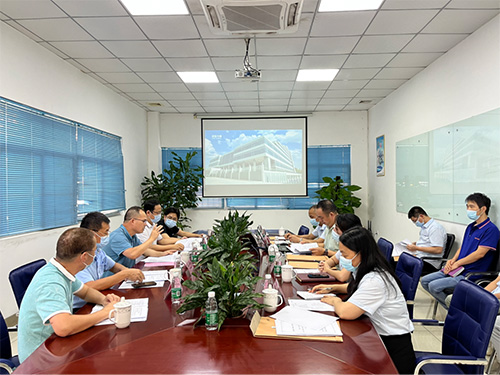 Cai Junfeng, on behalf of the town committee and the town government, congratulated HCVAC on its successful establishment of "Guangdong Doctor Workstation", and hoped HCVAC would seize the opportunity of its establishment, continuously increase its investment in talent construction and R&D projects, create an atmosphere of loving talents and cherishing talents, and rely on Industry-University-Research's cooperative resources, combined with the "school-enterprise cooperation" oriented entrusted training method, to attract and gather more doctoral and postdoctoral talents, and give full play to the role of talent "reservoir". Meanwhile, It is hoped that HCVAC will "lead the innovation drive with talent drive", take the platform as an important carrier to improve the comprehensive competitiveness of enterprises, set a benchmark and model for enterprises in our town, and make greater contributions to helping Dalingshan "base itself on the new starting point of Dongguan's' Shuangwan' and accelerate high-quality development"!
During the exchange, the relevant person in charge of Zhenrenshe Branch affirmed the construction of HCVAC Station. At the same time, enterprises and enterprise talents were encouraged to actively apply for subsidies for the construction of doctoral workstations, subsidies for talent introduction and training, subsidies for featured talents and talents benefits such as Dongguan Youcai Card, and fully enjoy the policy dividend.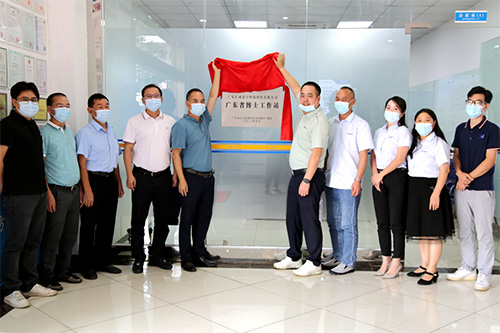 Finally, Cai Junfeng and his party jointly unveiled the "Guangdong Doctor Workstation" of HCVAC.
In order to implement the strategy of strengthening the city with talents, help Dongguan to compete for the new track of "Shuangwan" city, and build a new highland of talent gathering in Greater Bay Area, in recent years, our town has actively responded to the call of the provinces and municipalities, vigorously mobilized and encouraged enterprises to build talent development platforms and enhance talent carrying capacity. Guangdong huicheng vacuum technology Co.,Ltd is the third enterprise in our town to set up "Guangdong Doctor Workstation" after Guangdong Huixing Seiko Zhizao Co., Ltd. and Guangdong Tuosida Technology Co., Ltd.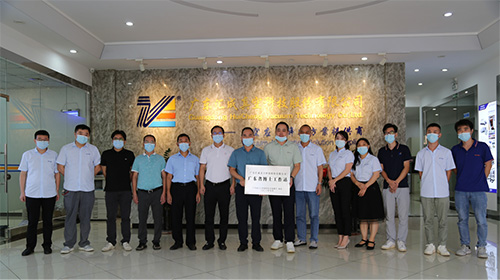 Nest-building and talent-seeking, a new chapter of doctor's pilotage spectrum. Next, Dalingshan People's Social Welfare Branch will further mobilize more high-quality enterprises to participate in the construction of doctoral workstations, and continue to intensify the publicity of policies such as the Implementation Measures of Dalingshan Town Talent Special Incentive Fund, actively implement the subsidy project for doctoral and outbound postdoctoral students, and provide accurate and comprehensive services in the whole chain of talent introduction, education and retention, and strive to push the talent work in our town to a new level!