Electron beam evaporation pvd coating machines are most widely used in the new industrial electronic products industry. This coating technology has many advantages, but it also has some disadvantages. Since the characteristics of the evaporation coating machine play a huge role in the production of thin films, the production of thin films is mainly produced by the heating of the electron beam in the coating machine. Under high vacuum, the electron gun filament is heated and emits hot electrons, which are accelerated by the accelerating anode and bombard the evaporation material with great kinetic energy. The kinetic energy is converted into heat to heat and vaporize the evaporation material, thereby realizing electron beam evaporation coating. The electron beam evaporation source consists of a hot cathode that emits electrons, an electron accelerating electrode, and a coating material that serves as the anode. The energy of the electron beam evaporation source can be highly concentrated, causing the coating material to locally reach high temperatures and evaporate. By adjusting the power of the electron beam, the evaporation rate of the coating material can be easily controlled, which is especially beneficial for high melting point and high-purity metal and compound materials.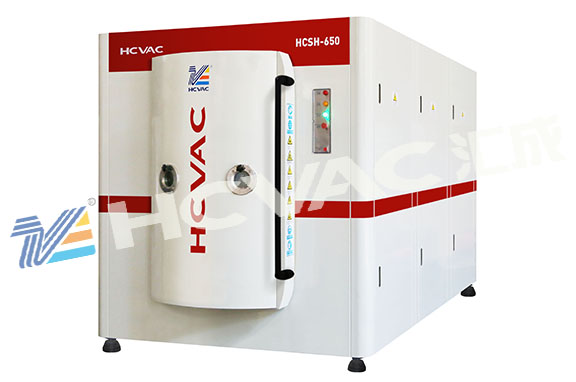 1. Advantages of electron beam heating
evaporation pvd coating machine
① Compare the electron beam heating method in the coating machine with the traditional resistance heating method. Electron beam heating will produce a higher flux density, which is more beneficial to the evaporation of materials with high melting points, and can also increase the evaporation rate to a certain extent.
② When the evaporation coating machine is working, it will put the raw materials that need to be evaporated into the water-cooled copper crucible. This can ensure that the materials are protected from contamination and can produce films with relatively high purity.
③The kinetic energy of particles evaporated by electron beam is relatively large, which will be beneficial to the precision and bonding force of the film.
2. Disadvantages of electron beam heating evaporation pvd coating machine coating
①The overall structure of the electron beam evaporation coating machine is relatively complex, and the price is relatively high compared with other coating equipment.
② When the coating machine is working, if the density of vapor near the evaporation source is relatively high, there will be some interaction between the electron beam and the vapor particles, which will affect the electron flux and make the electrons Flux dissipation or orbital deviation. You may also induce excitation and ionization of vapor and residual gases, which affects the quality of the entire film.