In daily life, most stainless steel products are plated using multi-arc ion pvd coating machine. It has the advantages of good uniformity, dense film structure, high smoothness, and high efficiency. It is widely used in the market and accounts for a very high proportion. high. Below, the editor of Huicheng Vacuum will introduce in detail the relevant basic knowledge of stainless steel products plated by multi-arc ion pvd coating machine. I hope it can help you: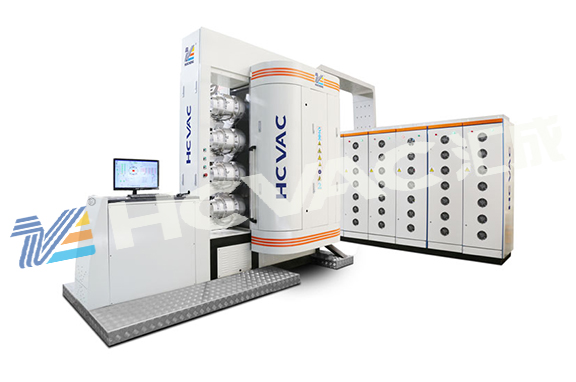 Daily stainless steel workpieces need to be plated with different colors, which require different processes and different rake materials. For example, for the common gun color, we generally choose to use titanium rake or chrome rake. The color made by titanium rake is old, and the color made by chrome rake is old. For tender and black ones, we usually use titanium column rake or chrome column rake. If the film layer is fading, the first analysis is whether the process is correct, the second analysis is whether the pre-treatment cleaning is thorough, whether the pure water value meets the standard requirements, and the third analysis is whether there is a leak in the vacuum furnace. There are probably three reasons. If the color changes, the first analysis is whether the product on the rack is within the effective sputtering range, and the second analysis is whether the process should be adjusted。
The stripping process is also based on different processes, the size of the bias voltage, and the colors plated by different rake materials. We analyze how to correctly strip the plating. The color plated with a titanium rake, such as gold: hydrogen peroxide plus caustic soda, plating The colors are different, and the deplating process used is also different.
When the
multi-arc ion pvd coating machine
is working, the target power supply used is different. The stainless steel plated TIC multi-arc cathode can stably work with different currents depending on the target material. For example: if it is a Cr target , it can work stably at about 60A, the Ti target can work stably at about 70A, the arc stabilizing current of Zr is slightly higher, about 100A, and the working voltage of the cathode is between 20V-30V. When coating, for example, if you want to make a TIC black film, you must use a Ti target. The working current of TI is 70A and the working voltage is about 25V. You need to fill the vacuum chamber with C2H2 gas, and the vacuum degree during coating should be maintained at about 0.5Pa. , Under normal circumstances, a molecular pump or diffusion pump is used to extract these gases so that the vacuum chamber maintains a certain pressure. At this time, the slide valve pump and Roots pump act as the backing pump of the molecular pump or diffusion pump and must be turned on all the time. On.